SavvyCard is a new mobile website ecosystem that promotes sharing and interaction. Is it ready for real estate?
What is SavvyCard? To hear David Etheredge, co-founder and CEO of SavvyCard tell it, it's a wholesale reimagining of the mobile experience for small businesses that want to engage customers wherever they happen to be. Which these days, tends to be on their mobile phones.
Yet the hard part is simply this: SavvyCard does a lot, and it's hard to describe in a simple elevator pitch. To start with, it's an electronic business card with a built-in lightweight CRM.
It's also a method for small businesses (read that as Realtors®) to instantly create a mobile site that is optimized for Google and might even appear at the top of the search results.
---
SavvyCard • Mobile Web Platform • Free for Agents
---
You could even say that SavvyCard creates instant referral networks between professionals who may use it cross-market their services. Think of an agent with dozens of contractors in her network. SavvyCard can enable an agent on the platform to send referrals and track results.
But wait, there's more: For real estate associations that choose to offer SavvyCard to their members, the platform creates an instant mobile site for each member, and affords those who utilize the service's IDX feed to spit listings found on their websites to consumers' mobile phones.
Probably the best way to think of SavvyCard is an ecosystem of mobile services that enable businesses to connect to their customers, and profit from their vendor/referral relationships.
So what does that mean to you? Simply that you may stand to profit from SavvyCard, because for now, the electronic business cards are free and easy to set up.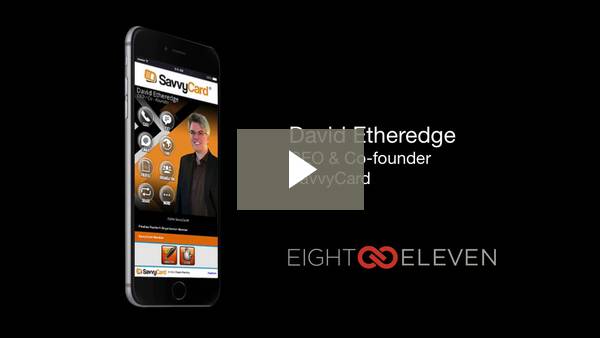 Cards that Count
SavvyCard starts with a deceptively simple electronic business card. It's easy to create, and you can even customize the background via a downloadable Photoshop template. Add in your social accounts, contact information and a few other bits of profile information, and you're ready to start marketing your card.
What's important is to claim your URL with care (e.g., savvycard.com/tracyweir) since this will be indexed by search engines, as well as SavvyCard's internal database ("CardFinder"). The system will automatically create a QR code for your card, which you can add to your marketing materials if you wish. While there are some naysayers that posit that QR codes are on their way out, it's still handy if QR codes work for you.
You can also create multiple versions of SavvyCards. For example, if you wanted to create a card for your real estate business and another for a side business, SavvyCard makes this easy.
SavvyCard also utilizes something called a SavvyDeck, which is a built-in, lightweight customer relationship management system that allows you to associate other people's cards with your own. Etheredge says this adds to the viral nature of SavvyCards, because they're intended to be collected and traded, just like baseball cards.
Easy to Share
Once you've created your SavvyCard, it's easy to share it with anyone you like. Just click the giant "share" button on the home screen of your SavvyCard. You can send it via email, text message or QR code. If you're logged in, SavvyCard will try to prefill the sharing forms with your account information.
In an interesting twist, if you're not sharing your own SavvyCard, but someone else's, you can choose to share the recipient's contact information with the person who owns the card. For example, if you refer a roofer who has a SavvyCard, you can instantly notify the roofer of the prospect's name and contact information when you send the referral.
Card? Or Mobile Website?
Etheredge says the secret sauce of SavvyCard is that each card is really a tiny mobile website, built in minutes for the cardholder.
Etheredge says that SavvyCard is an HTML5 application that is rendered on the fly in the device's browser. That means there's no app to download. Everything you need is right there, on the first screen when you open a card.
"What's important is that consumers are doing business 70 percent of the time on their phones," Etheredge explains. "They make a decision in 15 seconds as to whether something is worthwhile to them. They don't want to download another app."
That's why SavvyCard's sites are stripped to the basics, with enormous buttons that are easy to see and use. Although they may feel a little clunky at the moment, Etheredge says future iterations of the buttons will be more sophisticated and customizable.
Regardless of how the buttons look, they're useful — you can share your SavvyCard, initiate a call, send a text or compose an email, right within the SavvyCard.
Better SEO
Etheredge says that SavvyCard's mobile websites rank better for search because they promote engagement.
"Google's most recent updates value interaction and engage more than inbound links," Etheredge explains. "When you have a SavvyCard that enables the user to click a button to interact with a telephone number, Google sees that as engagement."
On traditional websites, users typically don't interact with a phone number — a visitor will simply go to the site, enter the telephone number they need on the homepage into their cell phones, and leave without a single click on the page.
Google may treat this as a bounce, although for the site's owner it's a win. Yet in the game of search engine ranking, such views don't help sites rank, and in fact, may detract from overall organic search engine placement.
Since everything on a SavvyCard site is meant to engage, Etheredge says this gives his sites an edge.
Larger Vision: Associations
Etheredge envisions an entire ecosystem of SavvyCards for people and businesses. Within real estate, he's particularly interested in working with real estate associations, where he can instantly create and deploy SavvyCards for all members.
Etheredge says that the member functions of SavvyCard's platform are ideal for MLSs and associations, as well as large brokers.
SavvyCard's first client in real estate was the Miami Association of Realtors. Etheredge recalls that he was attending a conference for association executives, where he met Teresa King Kinney and Deborah Boza-Valledor, respectively the CEO and COO/CMO of the association.
Both Kinney and Boza-Valledor saw the potential of SavvyCard to serve as a mobile website for each of their members and affiliates. [To hear a description of how this relationship came to be, go to 7:00 in the SavvyCard video at the top of this article.]
Etheredge says that the Miami Association of Realtors was attracted by SavvyCard's ability to enable comprehensive search into each member profile on the platform.
One of the more interesting pieces of SavvyCard's integration with associations and MLSs comes in the IDX feed. When an agent builds a website with a SavvyCard IDX feed, it's possible to build a SavvyCard for an individual listing that can be sent instantly to the mobile phone a website visitor. [For a demo of this feature, go to 19:00 in the video at the top of this article.]
The property card includes a complete description of the property including directions and pictures.
"We enable people to network with each other, and our platform is viral," Etheredge says. "When agents can easily interact with each other, affiliate members and their customers, it's a win."