Is your CRM system unbearably tedious? Dave Crumby says Realvolve is the CRM you'll actually use, because it's simple and powerful and will actually help you build relationships with your clients. Is it right for you?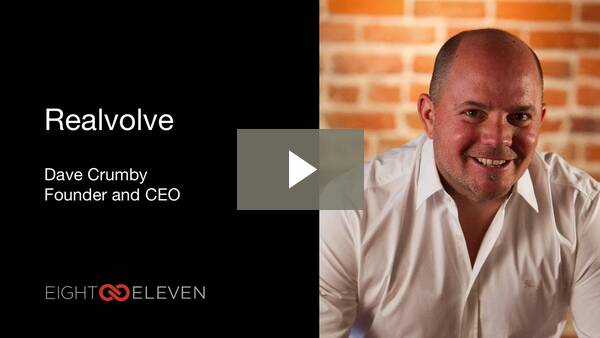 Is working with your CRM like taking a bitter pill? Do you gaze at its interface and want to poke your eyes out?
Do you sometimes feel like it's just a giant time-suck or a lost cause?
Do you "forget" to enter information into it?
With every month that passes, as you pay your automatically billed $39.95 a month subscription, do you feel just a little bit guiltier for not really doing something you know is good for you?
---
Realvolve • CRM • Starting at $37/month • realvolve.com
---
That's what Dave Crumby, founder and CEO of Realvolve, is out to fix. Not just because he wants to sell you his own $37 a month CRM, but because he wants you to believe in yourself and take pride in your craft — and treat your livelihood as a business, and not just a collection of leads that you chase from one week to the next.
Crumby says that to have any hope of building a real, sustainable business (instead running from pillar to post after leads), you must track your clients, transactions and communications.
That may not be a revolutionary thought.
Yet Crumby, who has clearly spent an enormous amount of time thinking about what makes people — and real estate agents specifically — successful, says that success is equal parts human interaction, and your ability and commitment to track those interactions.
In essence, Crumby says it's about the relationships you create … and the systems you put in place to make those relationships authentic and sustainable, and consequently, successful.
Crumby says that Realvolve helps you have genuine, long-lasting relationships with your clients — and that is what makes it different from competitive CRM systems.
A CRM Built for Humans
Crumby has spent the last five years perfecting a system to enable Realtors to build and maintain genuine relationships by accurately capturing the nuances of human interactions.
So what does that mean?
Humans are spontaneous, unpredictable, interesting and complex. Realvolve looks to capture all that complexity in an intuitive, easy to use platform that operates as your second, better self.
You know who that is — it's the you that always know what a client needs or wants, in advance. It's the you that is always a step ahead in every interaction, whether that's sending a private Facebook message or closing on a property in record time.
In essence, Realvolve wants to handle the mechanics of your relationships, so you can focus on the relationship itself. Crumby believes that if you can establish 1,000 genuine relationships in your life, you can do 60-120 transactions a year.
That's why Crumby built Realvolve. In much the same way you interact with a client in person, Realvolve enables you to capture the essence of your relationship with a client. It's as much about hard facts as it is personal details, with a large dose of enabling you to do exactly what you say you'll do.
A Departure
It's true that much of the functionality of Realvolve can be found in other standard CRM programs like Top Producer and Wise Agent. You start by capturing all of the relevant contact information, just as you would with any other CRM. But what's different about Realvolve is simply this: It's beautifully designed.
Every pixel and user interaction has been thought through, with an emphasis on freeing you from mundane tasks. What does that mean?
Simply that once you set up Realvolve, and spend a bit of time customizing it to your liking, the program uses workflows and templates to enable you to manage your business with a few clicks.
It starts with the contact record, which is a comprehensive profile of your client. You can enter in as much, or as little as you want about your contact.
You can also link to their social profiles, and send them direct messages on Facebook, Twitter, LinkedIn or text message (SMS) from within Realvolve. You can also attach notebooks from Evernote.
Crumby knows that no good CRM lives in isolation, which is why Realvolve is deeply integrated with Google apps. You can synch your activities to Google, and it's easy to pull in your contacts from Google, Facebook, LinkedIn and Twitter. You can also upload contacts in a CSV file (useful if you're on Outlook or an offline contact manager).
No matter how you choose to communicate with your clients, all types of messages are stored within the record. They're then blended in the notes and correspondence feed view so that you can see every task and communication you've had with a client.

It's simple to create one-off tasks as well. Define what you have to do first and choose a type of activity. Next assign a date, time, contact and responsible party. You can also tag these activities so that you can easily find them later. Outstanding tasks then appear in the right hand column until you mark them as complete.
Built-in Workflows and Templates
Realvolve's built-in workflows and customizable templates are both unique and powerful.
They go beyond a simple to-do list, or setting up a series of emails. Realvolve's templates and workflows are designed to accommodate everything you need to do to complete a real estate transaction, from putting up a yard sign to sending an SMS text message to a client to gather information for a listing.
Every workflow includes both templates and activities (which can be assigned to specific members of your team).
You begin by creating a series of templates that will be blended into your workflows.
The templates enable you to send appropriate content to your contacts about properties or transactions via SMS, email, Facebook, LinkedIn or Twitter. They can include files or pictures.
For example, you could create a "what I've done for you today" template that automatically pulls activities related to a transaction that you've entered into Realvolve, and sends this update to your client on a frequency you define.
Once you have a series of templates built, you can start using them in workflows. They're a combination of activities you can assign to yourself or your team members, or automatic emails (or other messages) you've defined in your templates.
You can configure workflows however you'd like, and attach them to contacts, properties or transactions.  Once you apply a workflow, you can customize it by deleting or adding activities, further refining your process as you see fit. You can even link workflows to one another, so that as one workflow is completed, you can activate another. Here's a demo of how to create templates and workflows within Realvolve:
The power of the workflow is that you can use it for every part of your transaction, in one seamless process. Whether you want to use it as a task manager or have Realvolve send automatically sequenced emails to your clients based on completed activities, or dates, is up to you.
Crumby says that workflows may take some time to configure, but that they remove the drudgery of managing hundreds of details and activities necessary to complete a transaction.
"Realvolve is about doing the work for you," Crumby explains. "It's the first system I know of that actually does things on your behalf, so you can focus on what's important."
Powerful, Yet Simple
Crumby is the first to admit that Realvolve is intentionally simple. You can use as much — or as little — as you want.
"We're not trying to be everything to everyone," Crumby explains. "We wanted to build a system agents would actually use because it does just what they need."
That's why Crumby says you're not going to find a full-featured email campaign service (a la Mailchimp) built inside Realvolve, or complicated Salesforce-like contact and opportunity management.
Crumby maintains that Realvolve is built for solo practitioners, small teams and brokers who want to build relationships with clients and successfully manage transactions, without a lot of feature bloat or ugly design.
"We left out a bunch of functionality because our research showed that people don't use it," Crumby says. "Realvolve is focused on getting what you need to do done in the simplest possible way."