There's an ocean of amazing data in your MLS' RETS feed that can help you run your brokerage. Can Real Estate Ally unlock it for you?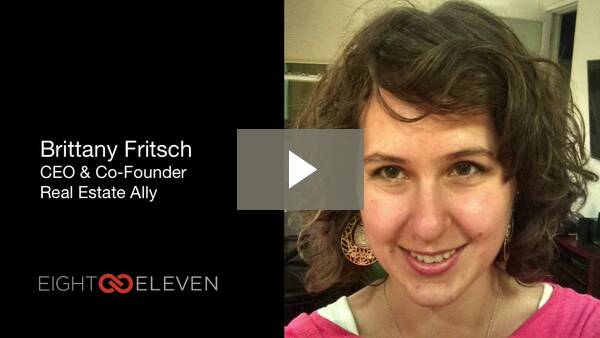 Let's say you're a small broker in a small town in Kansas, where the average sales price is $180,000 and you do just about 100 transactions a year. You're making a living, yes. You're sharp, your clients like and refer you, and you're a big fish in a small pond.
Now let's say that you really like your small to mid-sized independent brokerage.
You're not out to transform it into a goliath. You just want to make it run as efficiently as possible, using tools that are just as good as what the big boys use. Yet your budget is limited. You can't spend $1,000 a month on various and sundry tools.
You don't have much time, either, because, after all, you're out there selling real estate. That's the situation Brittany Fritsch's mother found herself in — and it's the reason Real Estate Ally was born.
---
Real Estate Ally • Business Analytics • $100/year + $5/Agent Access
---
Fritsch, who is today chief executive officer and co-founder of Real Estate Ally, had watched for years as her mother, Jeanine Byers-Long, broker owner of Advantage Realty in Russell, Kan., managed her business with homegrown tools she had built herself in Microsoft Access. But she was outgrowing them, and needed new and better tools.
No Single Application
Byers-Long told Fritsch that while she could easily find CRM and accounting products, she couldn't find a single application that allowed her to track listings, customers and transactions in one place.
Each existing platform tracked a different piece of the transaction, never giving Byers-Long the whole picture in a single dashboard. Pulling it all together involved tedious data entry, a time drain that was also prone to error.
This wasn't news to Fritsch. While in high school, Fritsch had watched her mom build the very platform in Microsoft Access she was still using years later. It allowed Byers-Long to track pending sales, listings price, days on market, sold price and other important bits of data that were then associated with customers and her agents.
The Access platform was offline and rudimentary, but it was also insightful and invaluable, because it filled a gap in Byers-Long's business.
Online Analytics
Fritsch, armed now with an MBA and her own web development company, knew there had to be a better way. She wanted to build an app for her mother that would be online, accessible from anywhere, and automatically generate the analytics that would help her mother make smart business decisions.
"We sat down with my mom and created the specification for the application," Fritsch recalls. "But it was just too expensive to build for my mom on her own."
So Fritsch went on a hunt for a platform she could adapt for her mother. But after a long search, she came up empty.
"I realized two things," Fritsch says. "First, that there was an enormous opportunity. And second, we needed to build it. Not just for my mom, but for every broker like her that wanted to optimize their business."
Powered by RETS Feed
As Fritsch and her developer husband and co-founder started to build their new platform, they realized that they would have to pull in information from the MLS to make it genuinely useful.
"As we started the discovery process with my mom and other small brokers, we realized that making them enter hundreds of details manually about their own transactions just wasn't going to work," Fritsch explains. "So we thought — all of this information is living in the MLS's RETS feed. We can pull it from there."
A RETS feed is a comprehensive stream of transaction data that MLSs send to outside services to power other applications and platforms. It's more comprehensive that an IDX feed, in that it contains historical and transaction status information.
Fritsch realized that if she could pull in the RETS feed for a broker, she could instantly parse the data into useful analytics because it contains all of the business information brokers need about their individual transactions.
The RETS feed offered a treasure trove of information about pendings, close dates, days on market, all associated with individual agents from a specific brokerage. And because the information was already in the MLS and being sent directly to Real Estate Ally, she could create a meaningful dashboard with no manual entry of transaction details.
There was only one problem. The RETS feed for each MLS in the country is slightly — to remarkably — different.
That's why Fritsch started with her mother's MLS (Kansas Property Ads) to prove the concept.
An Instant Dashboard
Fritsh's proof of concept transformed her mother's common sense reports from Access into easy on the eyes infographics that spell out in an instant what's really going on in your brokerage. You can see agent performance, types of homes sold, and forecast cash flows. Real Estate Ally also tracks actual vs. estimated revenue, based on MLS data.
Yet Fritsch went a step further, ensuring that the platform integrates with outside services including email platforms, social channels and CRMs so that customer data is seamlessly shared.  Although it is possible to use Real Estate Ally without connecting it to the MLS's RETS feed, it then requires manual entry and takes about three months to get enough data into the system to make the analytics useful.
A Fitbit for Your Brokerage
Fritsch's next target is the California Regional MLS (CRMLS), with 73,000 members and thousands of brokers.
Here's why: By partnering with CRMLS, Fritsch can "pre-crunch" all of the data in the RETS feed and automatically create accounts for every agent and broker in the system. This will enable brokers to instantly turn on their Real Estate Ally dashboards once they sign up for the service.
The agreement is a huge leap for Real Estate Ally, and Fritsch expects to formally launch the platform in CRMLS' service area in Q1, 2015. For now, she's looking for five California brokers who are members of CRMLS to beta test Real Estate Ally.
Fritsch is also working through the final steps in becoming a part of the Clareity Store, which she expects to launch at the same time as CRMLS.
"What makes Real Estate Ally useful is that we can create a private, custom dashboard that's powered by near real-time data for any broker or agent in the CRMLS RETS feed," Fritsch explains. There's no manual entry, and the analytics are instantly applicable to the broker's business.
"It's like a Fitbit for your brokerage," Fritsch says. It's hard to argue with the merits of that.